Sing Fat Company
Image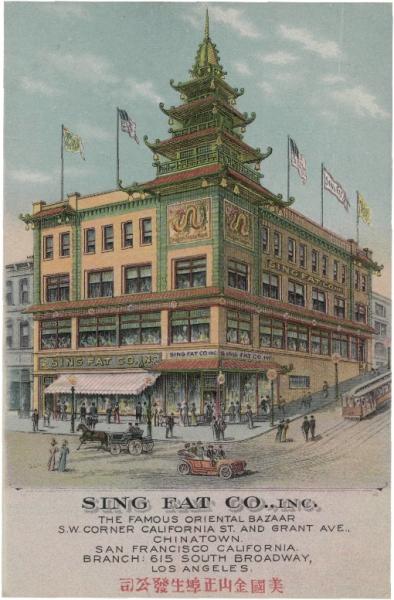 Background Notes
This is a trade card for the Sing Fat Company, located in San Francisco, California. Sing Fat was a Chinese businessman who owned imported and exported trade goods.
The trade card depicts the company's location in San Francisco, which included a combination of traditional Chinese architecture with American elements, such as the flag.
Trade cards were a popular form of advertising during the eighteenth and nineteenth centuries. Most trade cards provide the name and address of the proprietor and the variety of services available, sometimes with vignettes to describe items sold or the place of business. Although there is no concrete definition of a trade card, it is generally a printed notice of goods for sale or services available for the public. Often printed on small hand or "card" presses, trade cards could be created quickly and cheaply. This made trade cards affordable to both the big and small business owners.
Curator Notes
Type:
Exact Title: Sing Fat. Co., inc. The famous oriental bazaar ...
Periodical:
Volume:
Page(s):
Year:
Probable Date: between 1870 and 1900?
Description:
Author/Creator: Sing Fat Co.
Publisher: Britton & Rey, Lithographer, S.F. Publishers of pictorial post cards.
Place of Publication: San Francisco, California
Dimensions: 14 x 9 cm
Materials:
Condition:
Catalog Number: American Antiquarian Society Ephemera Late Trade Merch 0020