Washington Taking Command of the Troops at Cambridge, July 3, 1775
Image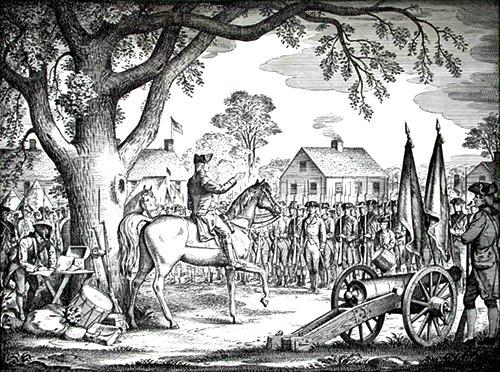 Background Notes
In June of 1775, John Adams proposed that a Continental Army be organized out of existing colonial troops. On the 15th of that month, Washington was nominated to be the Army's first General, and on the 16th Washington formally accepted the position without pay. He wrote a letter accepting this position.[1] The letter is now housed by the National Archives.

The image depicts the artist's interpretation of Washington's first meeting with his Army after his formal acceptance of the position of General.
1.Morris, Richard B. Encyclopedia of American History, New York: Harper & Bros., 1953. pg. 86-87.
Curator Notes
Type:
Exact Title:
Periodical:
Volume:
Page(s):
Year: 1941
Probable Date:
Description:
Author/Creator: Artist: Paul Hawthorne
Publisher: The First National Bank of Boston
Place of Publication:
Dimensions: 28 x 35.5 cm.
Materials:
Condition:
Catalog Number: American Antiquarian Society